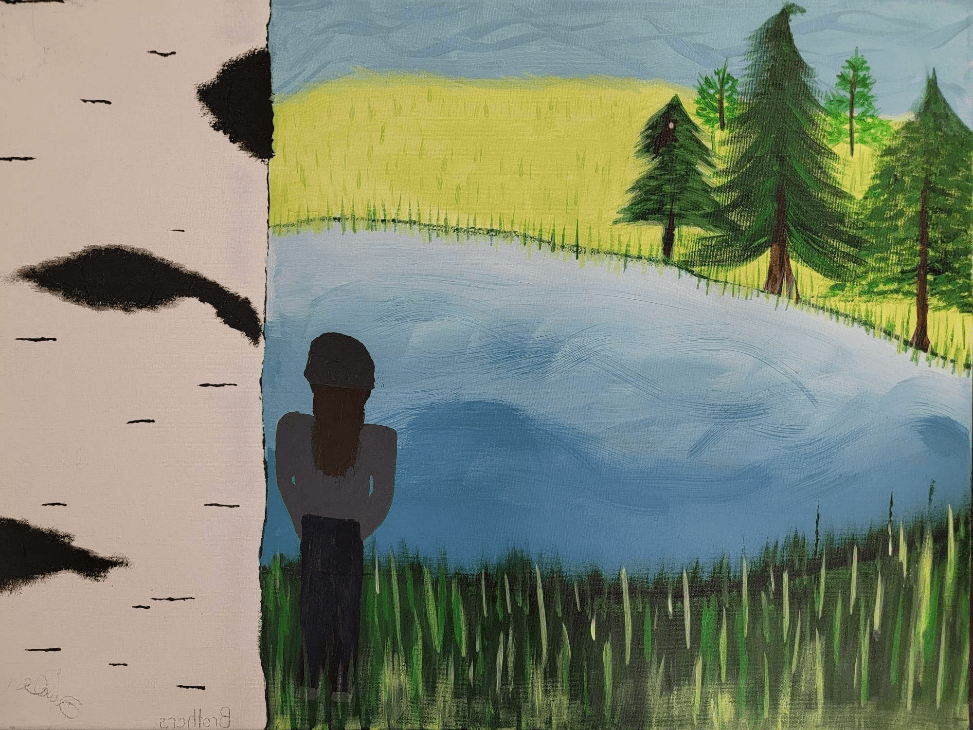 Indigenous communities have been leading wildland fire mitigation and prevention in Canada since time immemorial. Through generational practices like cultural burning they've helped shape the lives of humans, plants, animals, and the environment itself.
Sadly, though, with colonization came the suppression of beneficial Indigenous fire practices in our province and around the world. After laws like the Bush Fire Act of 1874 made it illegal to apply fire to the landscape, cultural burning fell out of practice. Ever since, a combination of climate change and aggressive wildfire suppression in BC has resulted in a dangerous buildup of forest fuels, greater tree encroachment on grasslands, and infilling of forests, ultimately increasing the severity of wildfires and decreasing the biodiversity and health of our forests. 
While the definition of cultural burning holds different meanings for different Indigenous communities, it is often defined as the controlled application of fire on the landscape to achieve specific cultural objectives, including but not limited to: cultural and language preservation, fuel mitigation, food and medicinal plant revitalization, and habitat enhancement.
In recent years, efforts have been made to correct past wrongdoings and recognize the importance of fire on the landscape. Following the 2017 wildfires in BC, a report made by former cabinet minister George Abbott and Chief Maureen Chapman recommended the integration of Indigenous knowledge and the increased use of traditional and prescribed burning. Additionally, recognition of fire's ecological benefits have grown in recent years and there has been acknowledgment of cultural and prescribed fires' ability to reduce the number of wildfires.
The BC government says it intends to repair relationships with First Nations communities and is supportive of more Indigenous-led burning, which is currently eligible for funding under the Community Resiliency Initiative program. The Province has also provided ongoing funding to the First Nations' Emergency Services Society of B.C. (FNESS) to support the inclusion of Traditional Knowledge, which led directly to the initiation of a Cultural and Prescribed Fire initiative. Integrating traditional practices and cultural uses of fire into wildfire prevention and supporting the reintroduction of strategic burning is also a commitment of the Declaration on the Rights of Indigenous Peoples Act Action Plan.
However, there is still a lot of work to be done to fully revitalize cultural burning, including relationship building between government and Indigenous communities, as well as policy changes that currently make it difficult for Indigenous peoples to perform cultural burns in the ways it was performed by their families for generations.
BC's history of fire suppression has led to a loss of culture and an increase in the risk of wildfires. Because of this, the younger generations did not grow up with fire and were disconnected from this generational practice, relying on elders to learn about good fire and its ability to clean and manage the land.
Recognizing this challenge, neighbours Peter Holub (a wildfire prevention specialist for the British Columbia Wildfire Service) and Tiffany Jorgensen (an artist at Cariboo Art Beat, a Williams Lake art collective and studio) came up with the concept of creating art-based workshops focused on cultural burning to support Indigenous fire stewardship and reinvigorate the intergenerational teaching of fire knowledge, beliefs, and values.
Holub, who is working to integrate cultural burning practices into forest and range management, wanted to start thinking outside of the box with Indigenous engagement and the revitalization of cultural burning. He thought that art might be an interesting way to help restart the conversation around a practice that hasn't happened for so long. He pitched this idea to the Williams Lake First Nation (WLFN) and the Yunesit'in (Stone) community of the Tsilhqot'in Nation, who both agreed to participate.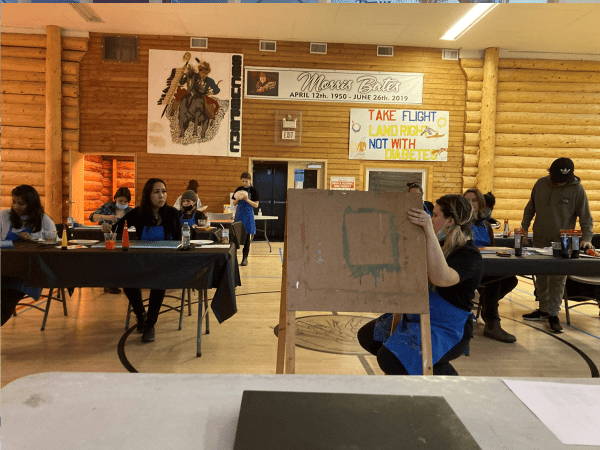 Cariboo Art Beat artist Sarah Sigurdson facilitated four art-based workshops in the communities of WLFN at Sugar Cane and two at Yunesit'in. Workshops were tailored to both communities and integrated forest materials, like juniper, sage, rosehips, and burned bark from the 2017 wildfires. Sigurdson let participants take the lead and create their own space for conversation.
While participants had varying degrees of knowledge on cultural burning and art experience, everyone found a way to relate to the subject and demonstrated a connection to the land and themselves; themes of survival, regrowth, colonization, and interconnection emerged through their work. At the end of each workshop, participants shared their finished art pieces with one another and expressed gratitude for the experience. When the night was over, one of the participants described the experience as a creative space for family and sharing. Another, a residential school survivor, said, "Thank you for giving me an opportunity to remember."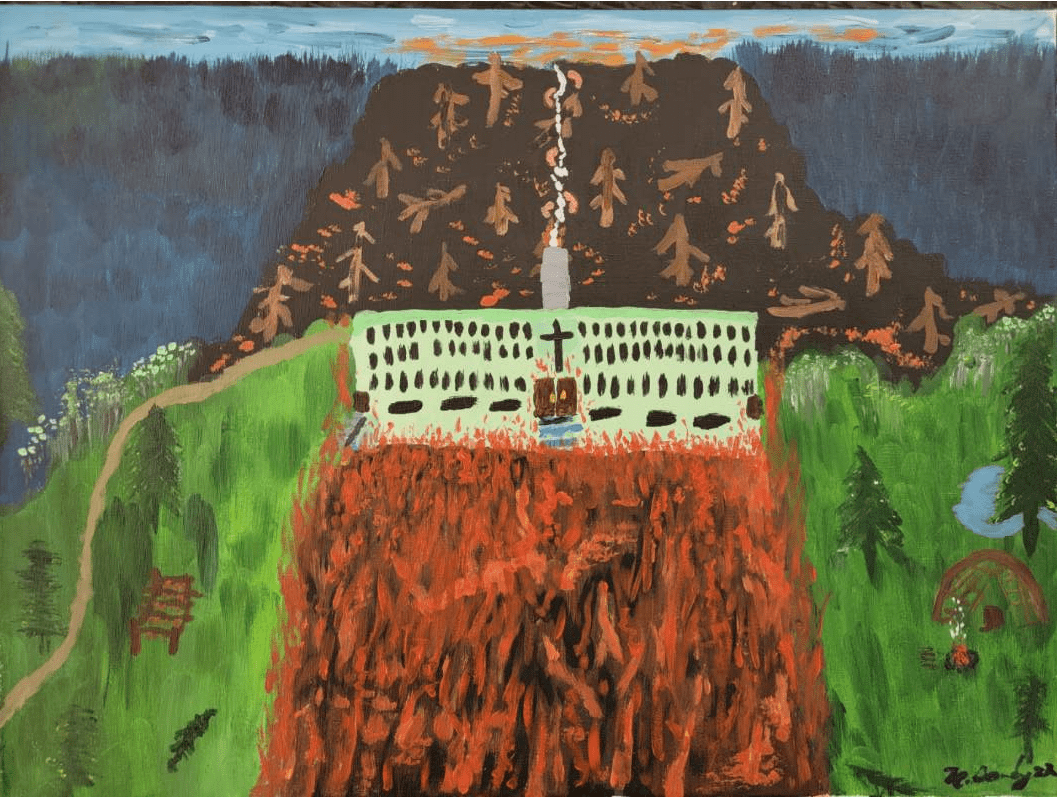 Holub and Sigurdson hope to facilitate more of the same workshops in the future. "It's essential that we continue to recognize the history of Indigenous people. We don't talk enough about how the land was once managed, and how cultural practices and oral history have been lost," said Holub. "Through these workshops we hope to remember this history and understand how deep Indigenous knowledge really goes."