Partnerships
What is a partner?
A partner is any individual or agency who participates, provides input and supports wildfire risk reduction tactics, such as cultural burning and prescribed fire. This may include identifying areas where a prescribed fire could meet a specific objective, initiating or contributing to a burn plan or prescription, supporting implementation on burn day or helping to monitor projects post-burn. Often, there are multiple partners involved in a project.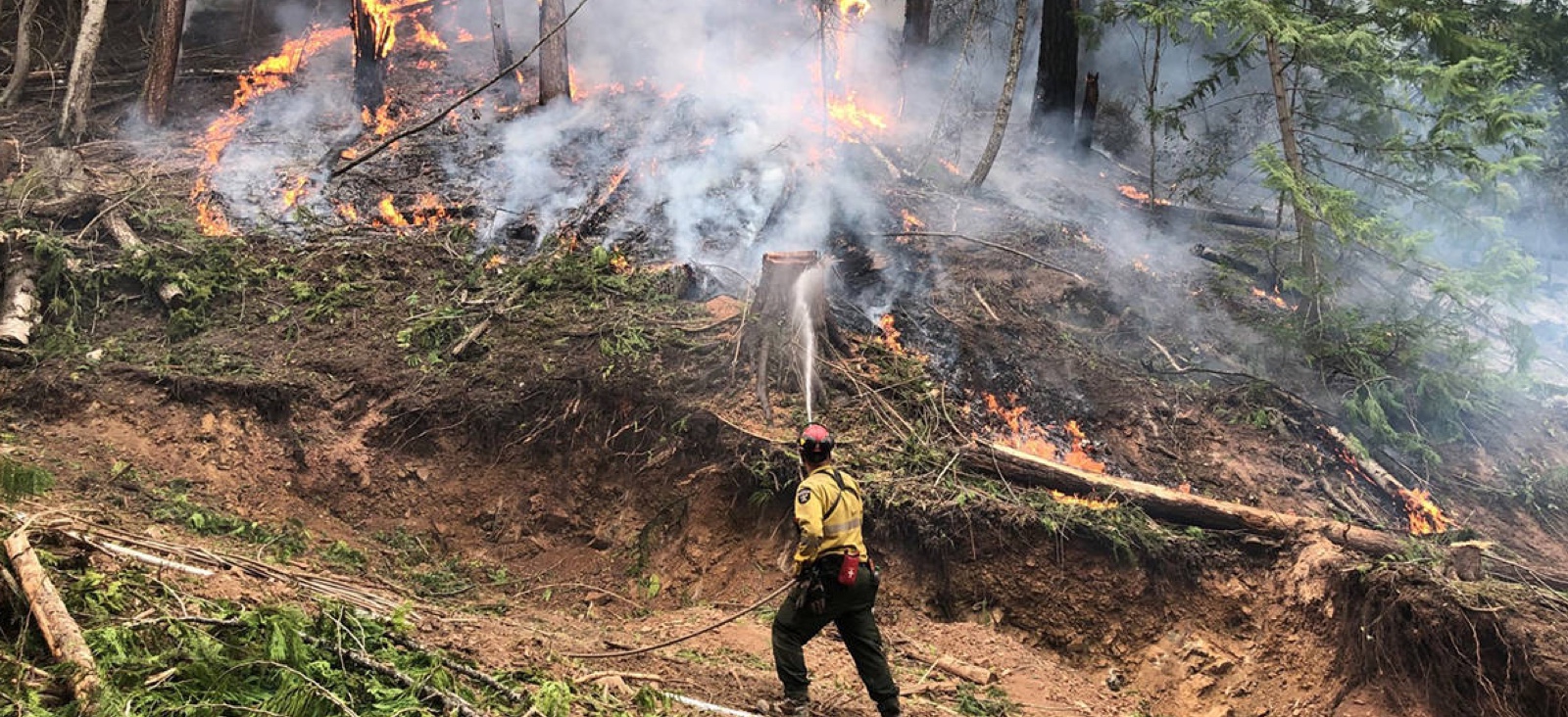 Key partnership groups
Tackling wildfire risk reduction and land management on a larger scale requires a bigger, collective approach. Here are a few of the key partner groups responsible for protecting our forests and communities in BC.
Provincial Government
The ministries, agencies and Crown corporations within the government of BC that support and manage land planning, management and wildfire risk reduction.
Municipalities and Regional Districts
Local governments incorporated by the province, including small towns, rural areas or big cities that have locally elected officials that govern communities and provide and regulate local services.
Indigenous Communities
First Nations, Métis and Inuit peoples who are the original inhabitants of the land that is now Canada and have in many ways been leading wildland fire mitigation and prevention since time immemorial, through local Indigenous knowledge systems.
Not-for-Profit
Associations, clubs, or societies that are organized and operated exclusively for social welfare, civic improvement, pleasure, recreation, or any other purpose except profit.
Forest Industry
Canadian private forest industries, including solid wood manufacturing, pulp and paper and logging.
Land Owners
A person or multiple people who own private property and land, especially a large amount of land.
Farm & Ranch
Owners of large plots of land that produce agriculture or carry cattle or sheep, as their primary focus.
Fire Departments
The department of a local or municipal authority in charge of preventing and fighting fires.
Working together to help protect and manage our forests and communities
This video explains the concept of shared stewardship and outlines how government agencies, land managers, Indigenous communities, and other organizations work together across the province to help manage and protect our forests and communities.
Watch:
The concept of shared stewardship
What is Shared Stewardship?
Shared Stewardship is a collaborative approach to land management that focuses on working together with government agencies and other partners to establish joint priorities and opportunities.
Shared Stewardship Key Values:
Working together on a larger scale
Cross-boundary solutions regardless of who owns the land
Joint priority setting (working together and sharing the risk)
It encourages strategy development across jurisdictions at a larger scale to create healthy, resilient forests.
Urgent land management challenges like extreme wildfires, fuel build-up, and invasive species do not recognize borders or jurisdiction lines. Shared Stewardship brings together provincial, regional, and local governments and other stakeholders to plan, prioritize, and act together.
Through Shared Stewardship, partners are coming together to address these challenges and explore opportunities to improve forest health and resiliency so that we can all continue to enjoy and benefit from our public and private lands.
BC Timber Sales Glacier Creek Prescribed Fire 
In Spring 2021, BC Timber Sales (BCTS) and BC WIldfire Service (BCWS) completed a prescribed fire near North Kootenay Lake, BC.
See Case Study
Munro Prescribed Fire
Filmed in October 2022 outside of Peachland BC, this collaborative burn project included several partners, including the Penticton Indian Band, Westbank First Nation, Okanagan Nation Alliance, Gorman Brothers Ltd., Okanagan Shuswap Resource District, the Ministry of Forests and the BC Wildfire Service.
See Case Study
Traditional Ecological Fire Knowledge: Penticton Indian Band/Syilx Nation
Filmed in July 2022, the Owl Creek Cultural Burn was implemented by Lil'wat Nation with support from BC Wildfire Service in Mount Currie on Lil'wat Nation Traditional Territory just outside of Pemberton, BC.
See Case Study
Forest ecosystems are essential to life on earth. Yet, despite our dependence on them, forests are experiencing many issues affecting their health, including fuel build-up, overcrowding, insects, disease and increasingly severe wildfire.
So, who exactly is responsible for managing and protecting them?