After two years of below-average fire activity, the BC Wildfire Service was faced with a tremendously challenging 2021 wildfire season, which begs the question, if this is our new normal, how do we adapt?
Wildfire season peaked much earlier than usual this year and was one of the driest and most active on record. Unprecedented hot and dry conditions due to climate change, susceptible fuels, and repeated severe thunderstorms and lightning events, all attributed to rapid, widespread fire activity.
In the first two weeks of July, there was an average of 40 new wildfires ignited per day. At the height of wildfire season, the number of active wildfires in B.C. was over 300. The extremity of this summer was also paired with extra challenges due to the Covid-19 pandemic making it that much more difficult to manage.
The pandemic inhibited BC Wildfire Services' ability to import out-of-province resources and posed additional health risks to staff on the front lines. The high number of active wildfires not only in B.C. but throughout Canada and the western United States also led to multiple agencies competing for resources and equipment.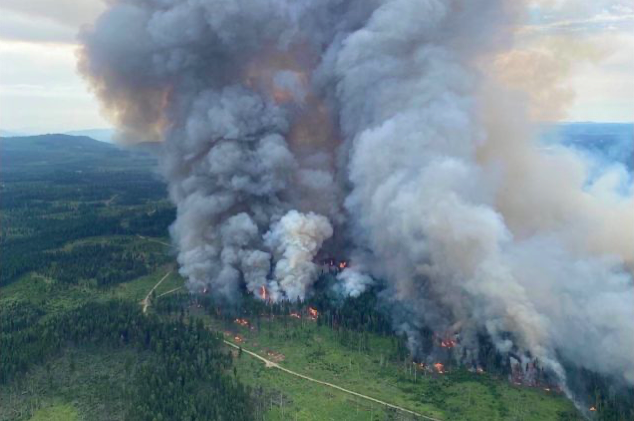 Provincial statistics
According to B.C. Wildfire Service, there were 1,604 wildfires between April 1 and September 20, 2021, resulting in 868, 009 hectares being burned in BC. As a comparison, more than 1.2 million hectares burned in 2017 and 1.3 million in 2018.
The 2021 wildfires resulted in the implementation of 181 Evacuation Orders and 304 Evacuation Alerts. The total cost of wildfire suppression since April 1, 2021, is approximately $563 million. This estimate does not account for future cost recoveries.
At the height of the season, 3,631 personnel worked to fight fires, including firefighters from Mexico, Australia and elsewhere in Canada. The fires displaced approximately 32,000 people and the province says 19,807 people registered with Emergency Support Services.
Statistics by fire centre
April 1, 2021 – Sept. 20, 2021
| | | |
| --- | --- | --- |
| Fire Centre | Number of wildfires | Number of hectares burned |
| Cariboo Fire Centre | 263 | 129,591 |
| Coastal Fire Centre | 209 | 7,098 |
| Kamloops Fire Centre | 448 | 496,992 |
| Northwest Fire Centre | 58 | 28,645 |
| Prince George Fire Centre | 269 | 128,594 |
| Southeast Fire Centre | 356 | 77,089 |
Resources
Nearly 4,000 staff were involved in wildfire suppression efforts. This includes upwards of 1,400 personnel who were contracted in various functions, including fire suppression, falling, structure protection, first aid, catering and security.
Industry partners, including 83 staff members, 258 contractors and 311 pieces of heavy equipment were engaged from Weyerhaeuser, Interfor, Canfor, West Fraser and Tolko. Additionally, 284 helicopters were contracted by BC Wildfire Service to help fight wildfires.
Nine air tanker groups were stationed throughout the province, including one group from Alberta. The combined total of air tankers and bird-dogs engaged in 2021 was 51. A total of 77 air tanker practices were conducted, and 676 air tanker missions were carried out. An additional 24 fixed-wing aircraft were also on hire.
As fire activity increased in the province, BC Wildfire Service received support from 917 personnel from out of province. Support came from Parks Canada, Alberta, Ontario, Quebec, New Brunswick, Newfoundland, Nova Scotia, Northwest Territories, Yukon Territory, Australia and Mexico. The Canadian Armed Forces also assisted with 625 members cycling through over the course of the summer. The Canadian Coast Guard also provided aerial resources for the wildfire fight in B.C.
A state of emergency
On July 20, Public Safety Minister Mike Farnworth declared a state of emergency to coordinate the response to one of the worst wildfire seasons on record, which lasted for 56 days, ending on September 14th.
The province previously declared states of emergencies linked to fires in 2003, 2017 and 2018. On July 1, 2021, B.C. concluded a 16-month state of emergency, the longest in the province's history, due to the COVID-19 pandemic.
Fires of Note
This year, there were many fires of note that affected almost every corner of the province. From the White Rock Lake fire outside of Vernon, which blazed over 83,000 hectares, to the devastating Lytton Creek Fire, which affected the entire Village of Lytton, BC.
The tragedy in Lytton came one day after temperatures in Lytton peaked at 49.6 C on June 29 – nearly five degrees hotter than anything recorded anywhere in Canada before. It is a wake-up call for Canadians and British Columbians to take global heating seriously and consider stronger preventative measures.
Adaption
So, how do we adapt to a world with more wildfire?
Since climate change is intensifying natural drought cycles and making wildfires more frequent and dangerous, it emphasizes the need for adaptation measures, which include better prevention, detection and suppression. And in many cases, the best approach is fighting fire with fire.
Media articles that covered wildfire activity throughout the summer interviewed experts who consistently pointed out the need for more cultural burning and prescribed fire.
"Putting fire back into the landscape can help protect it from fire for almost a decade", said Brenden Mercer, a registered forest technologist and forestry management liaison for First Nations' Emergency Services Society in a CBC article in July. "It's come to the point where some of these ecosystems have so much more fuel than they would have historically."
What exactly is prescribed fire?
It's the planned and controlled application of fire to a specific land area and is a relatively efficient means for achieving a variety of land management objectives, including wildfire risk reduction for the protection of communities and critical infrastructure.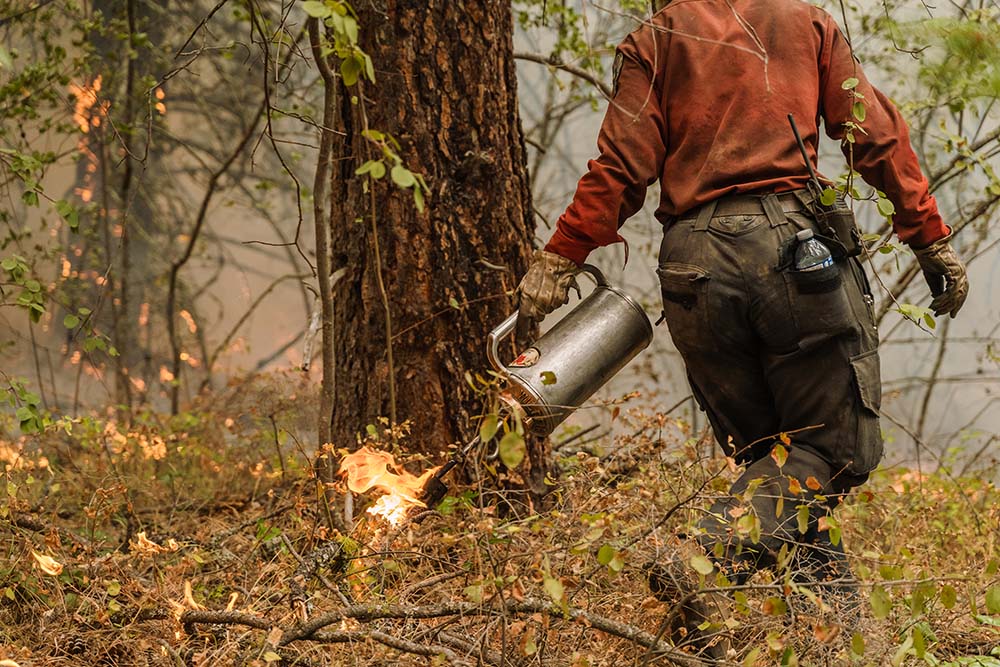 Prescribed fire or cultural burning has been applied among Indigenous peoples in B.C. since time immemorial — but fire suppression in recent years has prevented these practices from occurring.
After many years of fire suppression, an ecosystem that needs periodic fire becomes unhealthy. Trees are stressed by overcrowding; fire-dependent species disappear, and flammable fuels build up and become hazardous. The right fire at the right place at the right time can help achieve several different objectives and bring balance back to our forests.
Prescribed fire can help with community protection by decreasing the frequency and intensity of extreme wildfires. Controlled low intensity burning during the Spring or Fall removes hazardous fuels from our landscapes, creates fuel breaks that mitigate impacts of wildfires, and makes our forests healthier and more resilient.
"Indigenous peoples are the stewards of the land, fire is a cleanser of Mother Earth and cultural burning is a tool of the Fire Keeper," said Joe Gilchrist and Harry Spahan, Indigenous FireKeepers in British Columbia. "A new call to bring back the balance in the forest and the need to enhance the fire safety of communities is a much-needed breath of fresh air. Revive cultural burning practices, bring back burn cycles, and restore the land so all can thrive."
Before conducting a prescribed burn, experts consider several factors, including vegetation type, terrain, fire behaviour, temperature, humidity, wind conditions, and the venting index. The size and intensity of prescribed burns are carefully planned and controlled to meet land management objectives. All prescribed burns must comply with regulations to help minimize the amount of smoke generated.
Wildfire activity today
While the wildfire threat has reduced considerably over the past few weeks due to cooler weather, increased precipitation and ongoing firefighting efforts, it is still not over.
As of October 12, there are still 134 wildfires burning in B.C., even though October generally marks the end of wildfire season. There are also still three evacuation orders affecting approximately 223 properties and 12 evacuation alerts affecting approximately 254 properties.
The 2021 season passes the mark set in 1958 and becomes the third worst wildfire season on record, in terms of area burned.
To learn more about current fire activity, visit www2.gov.bc.ca/gov/content/safety/wildfire-status/wildfire-situation
To learn more about cultural burning and prescribed fire, visit http://localhost/prescribedfire.ca
Sources: